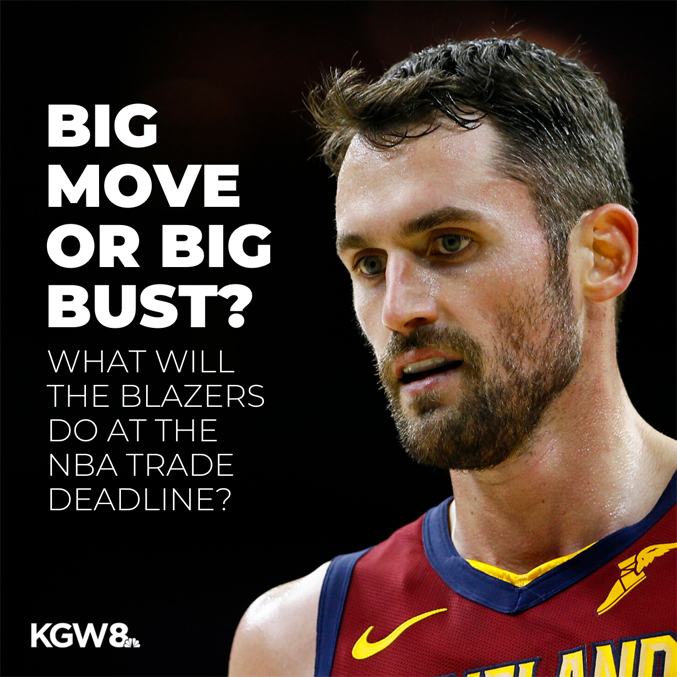 On this week's episode of KGW's 3 on 3 Blazers podcast, we debate whether injuries are the only reason for the Portland Trail Blazers' poor performance this season, talk about what kind of trades we expect the Blazers to make this season, make predictions for the next four games, answer YOUR questions and play another rousing game of Rip It!
Get more Blazers coverage at kgw.com/blazers
2. We're now less than a month away from the trade deadline. We touched on this in our last podcast but let's make it a question this time. Do you think the Blazers will make a move for a top-of-the-line forward (i.e. Kevin Love) or does the organization settle for role players to better fill out this roster?
Jared: I think the Blazers are more likely to make a big move at the deadline than trade for a role player or two. This is the moment for Portland's front office. They have these big expiring contracts, they have all their first-round draft picks going forward and they have some intriguing young players they can include in trade offers. If Portland strikes out trying to make a big move, I think they're more likely to keep Hassan Whiteside and Kent Bazemore the rest of the season and go into the offseason with some cap space to work with. I still think the Blazers will ultimately be the team that trades for Kevin Love. Portland reportedly tried to trade for him two summers ago. He reportedly wants to play for the Blazers. There's some smoke there. If the Blazers don't trade for Love, the only other top-of-the-line forwards who might be on the market are Robert Covington and Danilo Gallinari. If Covington is available, he'll be a hot commodity and could generate a bidding war. If the Blazers were willing to take back Gorgui Dieng and include some draft compensation, they'd have a chance. Trading for Gallinari is a big risk because he could leave this summer as an unrestricted free agent. Do you give up a first-round pick if there's a chance he doesn't stick around? Seems unlikely.
Orlando: I think we're all in agreement that a trade is coming. It makes the most sense. Yahoo Sports' Chris Haynes says it's hard for him to believe Kent Bazemore and Hassan Whiteside are in Portland after the trade deadline. That's a lot of money that could return a big name like Kevin Love. I wonder who else is out there, though. The Blazers do a great job of not leaking much information, so it has many of us guessing. It seems like it's just as realistic they bring in multiple players that aren't All-Star caliber, but fill needs like defending and perimeter shooting. I won't be surprised when they go that route of settling for role players, but this is a chance to swing for the fences and bring in a player they likely couldn't get via free agency.
Nate: I feel my blood boiling again. With regards to the trade deadline, I've said the Blazers finally need to push their chips all in toward the goal of winning a championship over the next three years. I believe Portland needs to make a move for a top of the line forward in order to compete for a championship. They're not going to get an opportunity in free agency or the draft to do that. But outside of Kevin Love, is there another high-level forward that will be available? There may not be. So, I think Olshey will ultimately go with filling out the roster with role players. And if that happens, Blazers fans should be disappointed. Even with a deep bench, I don't believe a starting lineup of Nurkic, Collins, Hood, McCollum and Lillard can compete with the LeBron and Anthony Davis-led Lakers or the Kawhi Leonard, Paul George-led Clippers.