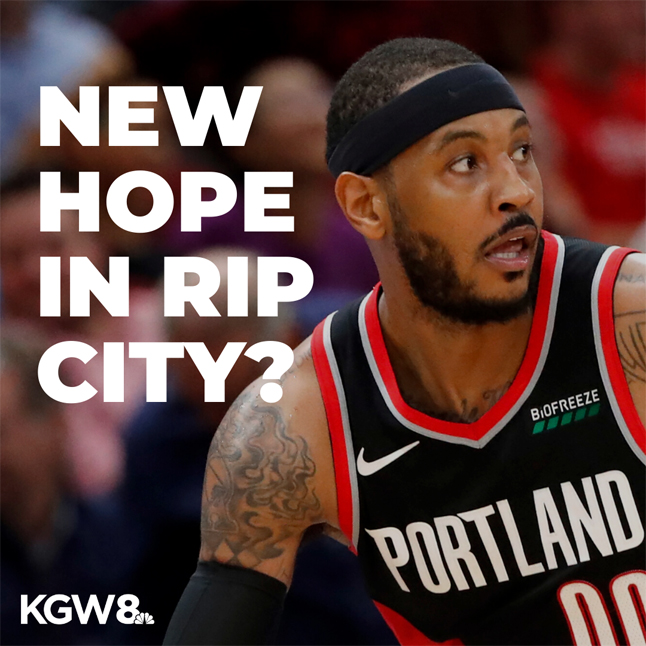 On this week's episode of the 3-on-3 Blazers podcast, we discuss Carmelo Anthony's impact on the team, debate whether the Blazers can turn their season around, and make predictions for the next four games.
1. Carmelo Anthony played his best game in more than a year against the Bulls. Can this kind of production or close to it be expected going forward?
Jared: Anthony had 25 points and eight rebounds against the Bulls. He won't average 25 and eight going forward, but I do think he can maintain or increase his production through his first four games with the Blazers. He's averaging 16 points, 5.3 rebounds, 1.8 assists and nearly a steal per game. He's shooting inefficiently from the field (39.1%) and efficiently from the 3-point line (39.1%). I don't see why he can't keep up that level of production. I'll say this: He's been much better than I expected. It's obvious that he worked really hard during his year away from the NBA. He came back ready, which is really impressive. He's playing 29.5 minutes per game, and it doesn't look like he'll have any trouble maintaining those minutes (or even playing a few more). That's so important for the Blazers because with this roster, Portland desperately needs someone who can play big minutes at power forward. He's in a great situation in Portland. He's starting, he's playing all of his minutes at his optimal position on the floor, and he's been given the autonomy to play to his strengths. He's not being typecast in a standstill catch-and-shoot role that doesn't really fit him. The Blazers are asking him to take catch-and-shoot 3s, but they're also letting him operate in isolation and in the post. Unlike his last two stops, in Oklahoma City and Houston, the Blazers are letting Melo be Melo, and so far that's been a good thing.
Orlando: Carmelo Anthony put together his best game since dropping 28 on the Bulls a year ago. If the Blazers are going to play Chicago more often, this would be an easy yes to the question, but that's not how it works. Anthony has proven he still belongs in the league and fits the Blazers style of play, but Monday's game feels like a best-case scenario. He's going to have nights where he goes off and there will be off nights. I want to see how he will help the team when the shot isn't falling at a high rate. I think it's a huge ask to expect him to have that kind of production every game, but there's no doubt he can make a difference in Portland. I enjoyed seeing the team rally around Carmelo and genuinely celebrate his first big game with the Blazers. That's a good sign moving forward.
Nate: No. And I'm not saying that to rain on Melo Fever. It's just not realistic. With that said, I don't think his performance against the Bulls will be an isolated highlight. I think he'll have games when he's hot and aggressive and we'll see him excel. But we won't see it on a consistent basis. In his first three games, Anthony averaged 13 points while shooting just 34% from the field and 31% from beyond the arc. You can blame it on rust and being thrust into a roster with teammates he's never played with before. But I don't think that rough stretch can be completely discounted. Do I expect him to consistently be as poor shooting as he was during that stretch? No. But expectations should be in between the great performance we saw against the Bulls and the previous three subpar performances. I think 13-15 points per game and 40% shooting should be what teammates, coaches and fans expect from him on a nightly basis. That contribution would be a major step up from what Portland was getting from the power forward position before Anthony joined the team.
READ MORE: https://www.kgw.com/article/sports/nba/blazers/is-there-a-new-hope-in-rip-city/283-2a36d924-4be3-4e2e-8e66-716921c4c265