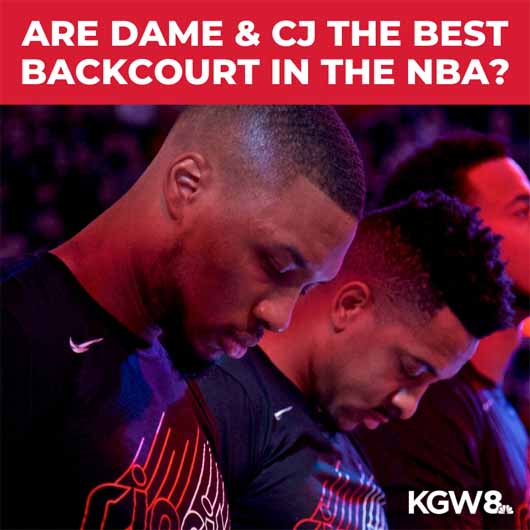 On this week's episode of the 3-on-3 Blazers podcast, we discuss what has been going right for Portland lately (other than an easier schedule), debate whether the Blazers have the best backcourt in the NBA, and make predictions for the next SEVEN games. Plus, we answer YOUR QUESTIONS, and play a special Holiday Edition of Rip It!
MORE BLAZERS COVERAGE AT kgw.com/blazers
Buy or Sell: Damian Lillard and CJ McCollum make up the best backcourt in the NBA this season. Explain.
Nate: This season, I'm buying. The only other three backcourts I considered were Houston's James Harden and Russell Westbrook, Boston's Kemba Walker and Jaylen Brown, and Toronto's Fred VanVleet and Kyle Lowry. All three of those other backcourts are new this season playing together and don't have the long-term consistency of Lillard and McCollum. That's one of the reasons I'm going to say the Blazers' backcourt is the best in the NBA this season. Damian Lillard is having one of the best seasons of his career, and you can make the argument that CJ McCollum, after a slow start to the season, is playing the best basketball of his career. Over the last 19 games, McCollum is averaging 23.2 points, 4.8 rebounds, 4 assists and shooting 49% from the field, all of which would be career-highs if he could keep up that pace for the rest of the season. Lillard and McCollum have also kept the Blazers afloat despite the injuries that have taken place all around them. 
Jared: The competition is in Houston with James Harden and Russell Westbrook; Boston with Kemba Walker and Jaylen Brown; and Toronto with Kyle Lowry and Fred VanVleet. I'm a disciple of ESPN's Real Plus-Minus and their ratings finally came out this week. Lillard and McCollum rank 13th and 14th overall, and in RPM wins (the estimated number of wins each player has contributed to their team's win total on the season) they rank eighth (McCollum) and ninth (Lillard). So, according to RPM wins, the Blazers have the best point guard in the game (narrowly edging Ben Simmons) and the second-best shooting guard (well behind Harden). All due respect to the duos in Boston and Toronto, but I think Lillard and McCollum are better than both (and the data backs that up). So it comes down to Harden and Westbrook. Though I think Lillard and McCollum are both better than Westbrook, Harden is so much better than everyone else that it gives Houston the nod. Case in point: The total RPM wins for Lillard and McCollum is 5.5. James Harden's RPM wins alone is 5.32. Add in Westbrook's 0.67 wins and Houston's duo edges Portland's. But just barely and only because Harden is so dominant.
Orlando: They definitely deserve to be in the discussion and have been one of the best backcourts for years now. Dame is arguably the best point guard and leader in the league, while CJ continues to be a rising star in this league, but I can't ignore the fact that this team is 12-16. Is it fair? Probably not, but I have a hard time putting them on top when I look at team success. Would you put them ahead of Russell Westbrook and James Harden? I have a hard time doing that right now. You've got two MVP level players getting it done in Houston. Their stats smash what the Blazers are doing in most categories and the Rockets are winning games.
MEET THE 3-ON-3 BLAZERS TEAM
Jared Cowley is a digital producer who writes about the Blazers and other topics for KGW.com. Jared has written about the Jazz and Warriors as a sports editor at two daily newspapers.
Nate Hanson is a digital producer who contributes to KGW.com's coverage of the Blazers, Ducks, Beavers and high school sports.
Orlando Sanchez is the sports anchor and reporter for KGW News, Sports Sunday and Friday Night Flights. Orlando has covered multiple NBA Finals, NCAA Basketball Tournaments and World Series.