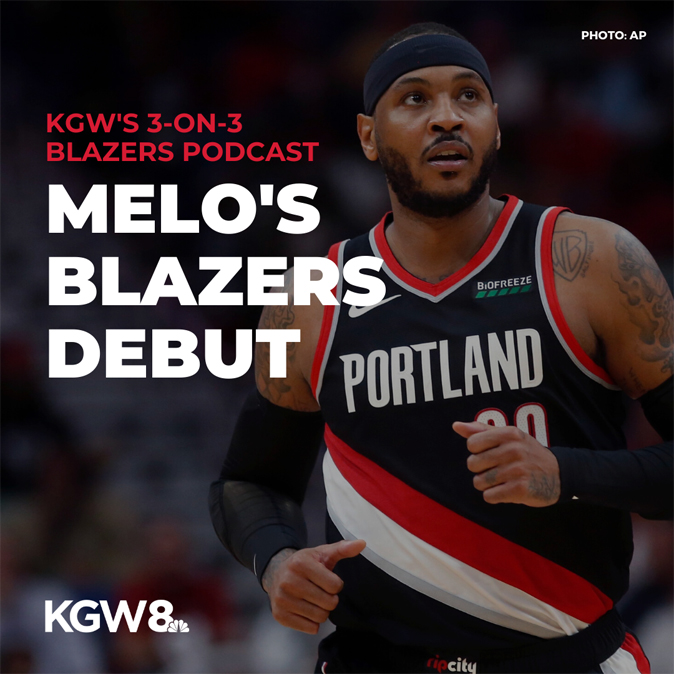 On this week's episode of KGW's 3-on-3 Blazers podcast, we discuss Carmelo Anthony's debut with the Blazers and what Portland can do to start winning games again.
Get more Blazers coverage at https://www.kgw.com/blazers!
The Blazers have been one of the most-talked about teams in the NBA this week and it's not because of their stunningly poor 5-10 record.
No, it's all about Carmelo Anthony. The Blazers signed Anthony to shore up their ineffective power forward rotation, finally ending the superstar's one-year absence from the NBA.
Anthony made his debut with the Blazers on Tuesday and scored 10 points in 24 minutes. Reviews of Anthony's performance were mixed. Many said he looked like Carmelo Anthony, for better or worse, and that he looked as good as one might expect from a player competing against NBA players for the first time in more than a year.
The question of Anthony's eventual impact on this team has yet to be determined, but the general consensus of national voices was captured well by The Ringer's Dan Devine, who wrote that Anthony, with all of his strengths and weaknesses, is "still Portland's best choice at the 4 even after a year on ice."
1. What did you think of Carmelo Anthony's debut with the Blazers?
Nate: It was hard to evaluate because of the absence of Damian Lillard. But it was pretty much what I expected. There was rust with his shooting, and he turned the ball over five times. After all, it was his first NBA game in a year. To me he flashed, especially early in the game, why the Blazers brought him on. He can make outside shots and garners more respect from defenders than anyone else the Blazers have on their roster outside of Lillard and McCollum. Melo's main job will be to knock down open perimeter shots and find buckets in the post. If he can do those two things, that may make defenses think twice when they're pressuring the star Blazers guards to get the ball out of their hands. As we discussed last week, Melo could be a positive addition to the Blazers' roster, and it doesn't have much of an impact on their wins and losses. I think we also saw that on Tuesday night.
Jared: Carmelo Anthony was better than his stats indicate. Some of those box score numbers were ugly. He missed 10 of 14 shots. Had five turnovers and five fouls. Was a team-worst -20 in plus-minus. The advanced stats didn't look good, either. By the eye test, though, I thought Anthony looked OK. He hit two of his three 3-point attempts, all of which were of the catch-and-shoot variety. The two 3-pointers that Anthony hit were wide open (no defender within 6 feet). I liked how aggressive he was attacking the rim. He missed five of six shots in the restricted area and in the paint, but that's an anomaly. His last full season in the league, with the Thunder, he shot 56% at the rim and 45% in the paint. The best version of Anthony for the Blazers would be if he's connecting on open catch-and-shoot 3s and scoring at the rim. Anthony looked lost at times on both ends of the court, but that's understandable. CJ McCollum said that Anthony learned just five of the Blazers' plays before the game, and the Portland playbook has more than 100 plays and counters. Anthony looks like he can still play in the NBA.
Orlando: Enjoyed all the hype leading up to Carmelo Anthony's debut with the Blazers. It's been a long time since Rip City had a star of his magnitude join the team. Even people that don't follow basketball have heard the name. On the court, it went how you would expect it to go for a good player who hasn't played in the league in over a year. He showed that he can still get buckets and can be a threat offensively. Anthony also missed a lot of shots and didn't get some calls that probably would have improved his shooting percentage. He also led the team in turnovers and looked like a player that wasn't on the same page as his teammates on both sides of the ball, which makes sense because he hadn't even gone through a shoot-around with the Blazers. What impressed me was that he came off the street, started for the Blazers and logged 24 minutes of work. It's clear he'll make his mark on this team over the coming weeks. One thing I can say for certain, the Blazers just got more interesting.
2. What's the most important thing the Blazers need to do in order to start winning games?
Jared: Other than get healthy? Let's focus on the Blazers' 22nd-ranked defense. The best thing the Blazers can do to shore up their defense is start rebounding that ball. Look at their defensive rebounding percentage for the past two seasons:
2019: 70.4% (27th)
2018: 73.9% (8th)
That's a huge difference. On defense, the Blazers are still defending well initially. They rank 11th in opponent effective field goal percentage. But the Blazers give up a glut of offensive rebounds and teams are taking advantage, scoring 16.3 second-chance points per game, which leads the league. Last season, the Blazers grabbed 73.9% of available defensive rebounds. This season, the Lakers are matching that percentage and they're giving up just 11.4 second chance points per game, which is 4.9 per game fewer than the Blazers. If Portland allowed 4.9 fewer points, they'd be giving up 110.4 points per game, which would rank in the middle of the league. Even if the Blazers didn't improve their offense at all, they'd have a point differential of +1.5, which projects to a 54.9% winning percentage, which would put the Blazers' record at 8-7, which looks a lot better than 5-10. Grab more defensive rebounds, win more games.
Orlando: First and foremost, the Blazers need Damian Lillard to be healthy. If he's not out there, they're not winning games. It's that simple. Defensively they've been bad, falling in the bottom 10 of the league in key defensive statistical categories. I think they can overcame that with better offense. Their offensive efficiency has taken a step back from last season. Part of the problem is implementing a whole new cast of characters and the struggle to find cohesion or a flow to the game. All of the early injuries and players being banged up have made the growing pains even more difficult to get past. These guys have to settle into their roles soon and start to find some success on offense or this season is going to get away from them in a hurry.
Nate: The obvious answer here is improved defense, especially in the fourth quarter. I addressed their struggles in that area last week, but I'm going to attack it at a different angle this week. They need to find a closing rotation. The Blazers' starting lineups have mostly had success. But they've had trouble finding a closing lineup. The most utilized lineup at the end of the game has been Whiteside, Hood, Bazemore, McCollum and Lillard. That group has a -100 net rating in the fourth quarter this season. No, that is not a typo. They've been atrocious offensively and defensively, which further explains the Blazers coming up short in so many close losses. On the bright side, the Blazers replaced Bazemore with Little at the end of the San Antonio game, and although it was a one-game sample size, that lineup had much more success. I'll be interested to see what closing lineup head coach Terry Stotts goes with in the next close game.
3. The Blazers wrap up their six-game road trip with three more games between today and Monday. They play the Milwaukee Bucks (11-3) tonight, the Cavaliers (4-10) on Saturday and the Bulls (5-10) on Monday. Which games do the Blazers win and which do they lose?
Orlando: Just like I started question 2, I'm assuming Damian Lillard will be back on the court after the Milwaukee game. After they lose to a really good Bucks team, I like their chances at Cleveland and Chicago. I'll take Portland to go 2-1 this week.
Nate: Without Lillard, the Blazers lose to Milwaukee, no doubt. And while Portland should win both games against Cleveland and Chicago, my gut tells me they won't. The Blazers have had games that look like easy wins on paper and have turned out to be losses, all of them on the road (Warriors, Kings, Pelicans). I'm going to say Portland beats Cleveland, but they lose to Chicago and finish the road trip 2-4. I don't believe the Bulls are better than Portland. But the Blazers have already piled up inexplicable losses and I'm going to peg them for another one here as they look forward to the end of a long road trip and coming back to Portland.
Jared: The Blazers will lose to the Bucks. Milwaukee is one of the best teams in the NBA. The Blazers are not. But Portland should beat both the Cavs and the Bulls. The Cavaliers are 2-4 and are being outscored by 6.5 points per 100 possessions at home. The Bulls are 3-5 and are being outscored by 3.5 points per 100 possessions at home. Portland hasn't been a terrible road team this season (except against the Rockets). The Blazers have played poorly of late, losing eight of their past 10 games. But they're not as bad as the Cavaliers and the Bulls, so I'm picking those two games as wins for Portland. If it plays out this way, the Blazers will be 7-11 at the end of a brutal 18-game stretch to start the season and will get to play 12 of their next 16 at home to close out the year. That home-heavy schedule gives the Blazers a chance to turn things around and climb their way back to .500.
SEASON PREDICTIONS RECORDS
Orlando: 9-6
Nate: 9-6
Jared: 8-7
MEET THE 3-ON-3 BLAZERS TEAM
Jared Cowley is a digital producer who writes about the Blazers and other topics for KGW.com. Jared has written about the Jazz and Warriors as a sports editor at two daily newspapers. Follow Jared on Twitter at https://twitter.com/jaredcowley
Nate Hanson is a digital producer who contributes to KGW.com's coverage of the Blazers, Ducks, Beavers and high school sports. Follow Nate on Twitter at https://twitter.com/NHans_KGW.
Orlando Sanchez is the sports anchor and reporter for KGW News, Sports Sunday and Friday Night Flights. Orlando has covered multiple NBA Finals, NCAA Basketball Tournaments and World Series. Follow Orlando on Twitter at https://twitter.com/orlandokgw.